Time Is Money:




How to Use Your Schedule to Drive Project Performance
Get research-backed methods to remove risk, avoid delays, and drive value with your project schedule.

In megaprojects, your schedule — or program — can be an asset or a liability. Any amount of schedule slippage drives up costs and delays the benefits of the project coming online.

This whitepaper will show you how to overcome risk and turn your project schedule into a powerful asset that drives project performance.

You will learn:
The psychological and organizational factors that drive schedule risk
10 data-driven strategies to de-risk your schedule
Tips and best practices to strengthen your time controls
Real-world results from high-performing organizations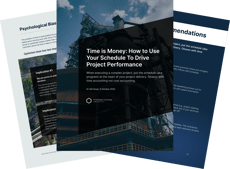 Fill out the form to download your free copy!