Build Megaprojects Faster with AI
Unlock the Hidden Value of Your Oracle Primavera P6 & Microsoft Project Data
Discover how new AI scheduling technology leverages your Primavera P6 or MS-Project schedule data to accelerate project delivery.

Companies and project teams are not getting all the value from the schedule data trapped in their Primavera P6 or MS-Project records.

This eBook explores how a system of intelligence - powered with AI - on top of Primavera P6 and MS-Project can help teams build faster.
You'll learn about…
The three main shortcomings of traditional scheduling software
The hidden risks your team may encounter because of these shortcomings
How new AI scheduling platforms solve these challenges
The key functionality of these platforms that enables teams to deliver projects faster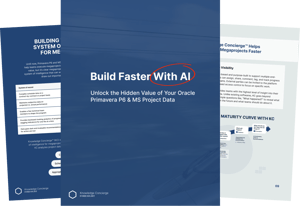 Fill out the form to download your free copy!